Swim Team
We're looking forward to the 2023 swim team season!
Lauren Bowling has been named head coach. A native of Augusta, Georgia, Lauren has been in Charlotte for about a year now. She works for Charlotte-Mecklenburg Schools as a 9-12 High School Counselor. In addition to counseling, Lauren has extensive swimming experience. She has been swimming for most of her life, starting summer league when she was 6 years old, then transitioning to club swimming. Lauren swam throughout her childhood and adolescent years, eventually landing her with a scholarship to swim collegiately for North Carolina A&T State University. So, it is great for Lauren to be back in North Carolina!
After Lauren graduated, she pursued her master's degree and coached part-time for the club team Aiken-Augusta Swim League (ASL). She coached with ASL for four years, coaching all groups from the "Senior" group to the"Beginner" group. Once Lauren landed her career in school counseling, she coached at the high school where she was employed for an additional four years. She also has taught swim lessons privately for many years. Swimming is a sport she is extremely passionate about. Lauren loves coaching and especially loves the spirit of summer league. She can't wait to meet everyone soon!
Swim team registration will begin in late March.  The season will run from May 15th to June 30th.  If you have questions, please contact   Kristen Clark   and  Shanley Gaither.
Summer 2023 Swim Meet Schedule
Wed. 5/31 FXH@BD 6pm Fri.  6/2  BD@BWE 6pm Thurs. 6/8 BD@CSRC 6pm Sat. 6/10 BD@OPRC 8am Sat. 6/17 PC@BD 8am Thurs. 6/22 SP@BD 6pm Wes. 6/28 All-Star Meet at MCAC

Swim Lessons
Barclay Downs Swim and Racquet Club does not provide swim lessons.  The club does allow two instructors to give lessons at our pool.  Please reach out directly for availability and pricing.
Julie Crenshaw swmteach@gmail.com
Masters Swimming
A guided practice for adult looking to improve swim skillas and fitness. Please reach out directly for availability and pricing.
Miller Swimming www.millerswimming.com or coach@millerswimming.com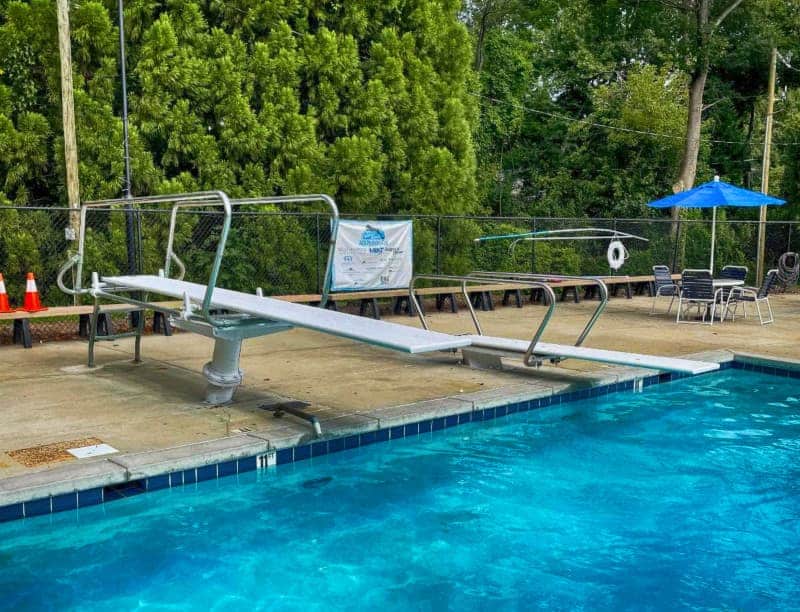 Guest Info
GUEST POLICES:
• All guests must be accompanied by a member.
• All guests must sign in upon entering the pool area; guests under the age of 18 must give
emergency contact information.
• Out-of-town guests (out of Mecklenburg County) may be brought at any time at no fee.
• Local guests may be brought during weekdays for a fee of $2.00 per guest.
• Local guests may be brought on Saturday, Sunday, and holidays for a fee of $4.00 per guest.
• Any in-town resident will be allowed to be a guest at the pool no more than ten times during a
summer.
• Each member family is limited to 5 guests per day. Six or more guests may be deemed an
unscheduled party, which could result in denied use of facilities at management discretion. Any
household that wishes to bring more than the allowed number of guests needs to register for a
party through the Pool Management Company.
Pool Parties
Pool PARTIES
In order to best accommodate everyone, please remember the following:
• Visit www.tridentpoolgroup.com to book all parties.
• All parties must be pre-approved and registered at least 14 days in advance with pool
management.
• Parties will be limited to a maximum number of 25 swimmers, including members and nonmembers. Guest fees apply to non-members. Parents or guardians may accompany swimmers
within reason and at the discretion of pool management.
• Parties are limited to a maximum of three hours in duration.
• Party reservations are on a first come, first served basis.
• Only one party permitted at a time.
• Parties may be limited or denied based on availability of lifeguards.
• If an extra lifeguard is required for the party, host will pay additional expense.
• At least 3 days prior, the host will provide pool management with the host name, contact phone
number, number to be expected for the party (swimmers and non-swimmers), a list of members
2
to be expected, and a list of guests to be expected. These lists will assist the front desk during
check in.
• At the time of the party, the host must be at the front desk to assist with welcoming his or her
guests and with checking in.
• The host must be present during the full hours of the party.
Volunteering
Swim meets require a large number of volunteers to make things run smoothly and quickly. Each parent is required to work AT LEAST one meet during the season. Parents who have children in the 6 and under age group ONLY do not have to work at a meet, but must volunteer at the end of season banquet or team breakfast. The volunteer registration link will be posted here soon.
Head Timer/Timers (10 per meet – head timer needed at home meets only)
Starter (starts races with air horn and announces events at home meets only, experience preferred)
Stroke & Turn Judge (2 per meet – evaluate swimmers' strokes, starts, turns and finishes for disqualifications, stroke knowledge preferred, get a poolside chair at every meet)
Runner (takes timer sheets to scorer's table)
Clerk of Course (2 per meet – arrange swimmers in lanes and heats, one for girls and one for boys)
Ribbon Writer (2 per meet – sit near scorer's table and help with ribbons)
Hospitality (distribute water to volunteers at home meets only)
Meet Set Up (assist with setup at home meets only, need to arrive 30 minutes prior to warm-ups)
SPECIAL THANKS TO OUR SWIM TEAM SPONSORS