Meet Your 2021 Pool Manager
Sarah Bowden Watson is a Greensboro native and excited to be in Charlotte at Barclay Downs this summer! Sarah loves everything related to water and grew up doing summer swim team until she became a lifeguard at a local pool. She lifeguarded and was a supervisor at Appalachian State University's Student Recreation Center. She graduated in 2019 with a degree in Psychology as well as Criminal Justice and Sociology minors. Be warned cross-poolers!!!
After graduation, Sarah worked in Greensboro for about two years at the Greensboro Aquatic Center, where she lifeguarded nationally televised events and witnessed some of the best swimmers in the world. She also helped teach second graders in Guilford County as part of the "Learn to Swim" program.
Sarah recently got married and can't wait to start the 2021 season as Mrs. Sarah Watson!
Swim Team
Welcome back to Barclay Downs, Coach Enzo Pazos! A native of Argentina, Enzo began swimming when he was two years old and never stopped. After swimming in three different cities in Argentina, he moved to Florida when he was 18. Enzo trained at the Hall of Fame for a year while learning English and then moved to here to swim for Queens University of Charlotte. Enzo shares, "I love swimming because it prepares you for life like nothing else. It teaches you about commitment, teamwork, time management, hard work and so much more!"
In addition to working with Coach Enzo, swimmers will enjoy working with Lead Assistant Coach Dima, and Assistant Coaches Katherine Ku, Caroline Ku, Megan Leo, and Connor Neely.
If you have questions, please contact Sally Lindsay and Molly Kelly.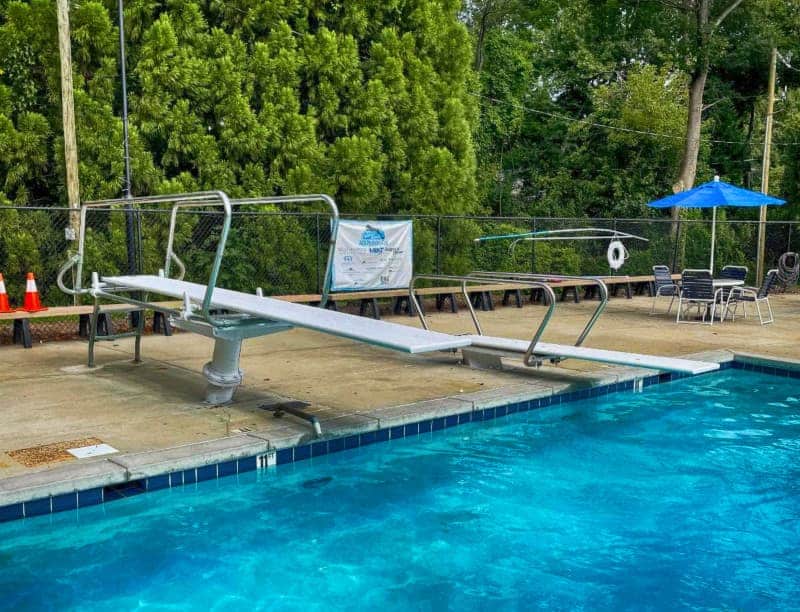 Guest Info
All guests must be accompanied by a member.
All guests must sign in upon entering the pool area; guests under the age of 18 must give emergency contact information.
Out-of-town guests (out of Mecklenburg County) may be brought at any time at no fee.
Local guests may be brought during weekdays and prior to 5:00 PM Friday for a fee of $2.00 per guest.
Local guests may be brought after 5:00 PM Friday, and anytime on Saturday, Sunday, and holidays for a fee of $4.00 per guest.
Any in-town resident will be allowed to be a guest at the pool no more than ten times during a summer.
Each member family is limited to 5 guests per day.  Six or more guests may be deemed an unscheduled party, which could result in denied use of facilities at management discretion.  Any household that wishes to bring more than the allowed number of guests needs to register for a party through the Pool Management Company.
Pool Parties
Many of our members enjoy having birthday parties and dinner gatherings at Barclay Downs. In order to help us best accommodate everyone, please remember the following:
All parties must be pre-approved and registered at least 7 days in advance by pool management.  Please contact Katie Buttcher directly at katieb@aquatechpm.com or 704.654.2655.
Parties will be limited to a maximum number of 25 swimmers, including members and non-members.  Guest fees apply to non-members.  Parents or guardians may accompany swimmers within reason and at the discretion of pool management.
Parties are limited to a maximum of three hours in duration.
Party reservations are on a first come, first served basis.
The number of parties occurring at the same time will be limited to 1-2, depending on the size, timing of the party, and time of year, at management's discretion.
At least 3 days prior, the host will provide pool management with the host name, contact phone number, number to be expected for the party (swimmers and non-swimmers), a list of members to be expected, and a list of guests to be expected.  These lists will assist the front desk during check in.
At the time of the party, the host must be at the front desk to assist with welcoming his or her guests and with checking in.
The host must be present during the full hours of the party.
An extra lifeguard may be required for the party at the host's expense.  The lifeguard can also assist the host with set up and clean up.
Volunteering
Swim meets require a large number of volunteers to make things run smoothly and quickly. Each parent is required to work AT LEAST one meet during the season. Parents who have children in the 6 and under age group ONLY do not have to work at a meet, but must volunteer at the end of season banquet or team breakfast. The volunteer registration link will be posted here soon.
Head Timer/Timers (10 per meet – head timer needed at home meets only)
Starter (starts races with air horn and announces events at home meets only, experience preferred)
Stroke & Turn Judge (2 per meet – evaluate swimmers' strokes, starts, turns and finishes for disqualifications, stroke knowledge preferred, get a poolside chair at every meet)
Runner (takes timer sheets to scorer's table)
Clerk of Course (2 per meet – arrange swimmers in lanes and heats, one for girls and one for boys)
Ribbon Writer (2 per meet – sit near scorer's table and help with ribbons)
Hospitality (distribute water to volunteers at home meets only)
Concession Worker (2 per meet – assist with grill and concessions at home meets only)
Meet Set Up (assist with setup at home meets only, need to arrive 30 minutes prior to warm-ups)