Information on Pool Hours and Closing
The pool opens Saturday, May 13.  It will be open weekends only for a few weeks and during the start of the season, pool hours vary to accommodate swim team practices and home meets.  Therefore, we suggest you consult the schedule on the website.  Pool hours
As a new service to members, we are offering real time updates on unexpected pool closings (due to weather, etc.) via the REMIND app.  If you want to receive updates from the pool staff, please download the REMIND app to your phone and then text @bd2812 to the number 81010.
Member Number Required
The club has several families with the same or similar last names.  To ensure proper charging of guest fees and purchases, all members will be required to provide their last name and member number to sign-in at the front and make snack bar purchases.  Please make sure unaccompanied minors know this information before you drop them off.  Member number will NOT be given to unaccompanied minors; they will have to call home.
Each member will get an email in within 1-2 days with their individual member number.  Email will come from BDSRCmembership@gmail.com, so please check SPAM if you do not receive.
Member number can also be found by logging into the member portal (upper right on the club home page).  Then go to the Statements page.
Pool Management
We are excited to welcome Trident Pool Group who will manage our pool and lifeguards.  They have an excellent local reputation and are dedicated to ensuring a safe and clean environment for our members.
If you have any questions or concerns while you are at the pool, please first speak to the manager on duty, whose name will be posted at the front desk.  If the manager on duty is not able to resolve your question or concern, please email bdsplash2812@gmail.com.  This account will be monitored by the Trident management team and the board.
Snack Bar Management
We are excited that Allison Buchy will be managing our snack bar this season.  Allison is a member of the club and a teacher at Myers Park High School.  Allison and her husband, Phil, also own Legion Brewing.  The snack bar will provide additional menu options that we hope you will enjoy.  Allison will be working with our social chairs to develop special menu items for holidays.
If you have any questions or concerns while you are at the pool, please first speak to the staff on duty.  If the staff is not able to resolve your question or concern, please email bdsplash2812@gmail.com.  This account will be monitored by Allison and the board.
Pool Sign In
Starting this season, all members are required to sign in using a notebook provided at the front desk.  There will also be a place to indicate any guests in the notebook.
Snack Bar Procedures
Snack bar purchases are "pay as you go" so please do NOT pre-pay or create a credit on your account.  There are two options for making purchases at the snack bar:
Present a credit/debit card at time of purchase.
Provide account number and member last name when a credit/debit card is on file. ACH (checking/saving account) that may have been added to account to pay annual dues is not valid at the snack bar.  Additional processing fees for credit/debit, that were assessed for annual dues, will not be assessed for snack bar purchases.
-Cash will not be accepted.
Driving and Parking
Adhere to the neighborhood speed limit (which is 25 miles per hour).  Please discuss this issue with your teens and babysitters also. There are many children, walkers and bikers along the roads.  Parking is on the right side only of Sayre/Inverness as you approach the pool to allow for through traffic and emergency vehicles.  Thank you for your careful attention throughout the summer!
Rules Regarding Unaccompanied Minors
Children must be 10 years old and responsible swimmers to be dropped off at the pool. Please ensure parent's cell phone information is accurate in the member portal in case staff needs to contact you.  This can be edited on the My Account page after you log in.
Also, ensure your child is aware of the club rules (https://bdswimclub.com/about) and respects the lifeguards on duty.  Any member not obeying the rules will be discipled by pool management using the following protocol:
First offense: verbal warning, potential "benching" for a specified time period.
Second offense: expelled from the pool for the remainder of the day and parent will be contacted.
Third offense: expelled from the pool for one week and parent will be contacted.
Fourth and Final offense: expelled from the pool for remainder of the season and parent will be contacted.
Any non-member not obeying the rules will be asked by pool management to leave immediately.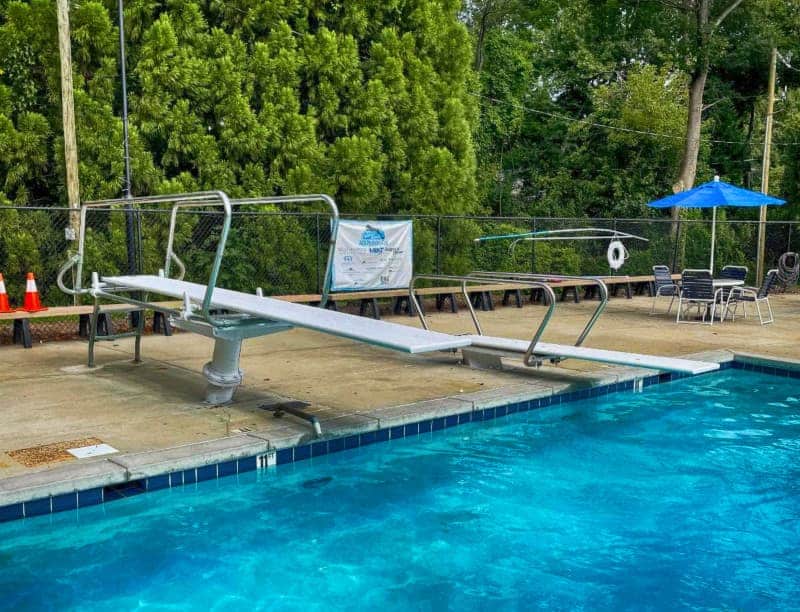 Guest Info
GUEST POLICES:
• All guests must be accompanied by a member.
• All guests must sign in upon entering the pool area; guests under the age of 18 must give
emergency contact information.
• Out-of-town guests (out of Mecklenburg County) may be brought at any time at no fee.
• Local guests may be brought during weekdays for a fee of $2.00 per guest.
• Local guests may be brought on Saturday, Sunday, and holidays for a fee of $4.00 per guest.
• Any in-town resident will be allowed to be a guest at the pool no more than ten times during a
summer.
• Each member family is limited to 5 guests per day. Six or more guests may be deemed an
unscheduled party, which could result in denied use of facilities at management discretion. Any
household that wishes to bring more than the allowed number of guests needs to register for a
party through the Pool Management Company.
Swim Team
We're looking forward to the 2023 swim team season!
Lauren Bowling has been named head coach. A native of Augusta, Georgia, Lauren has been in Charlotte for about a year now. She works for Charlotte-Mecklenburg Schools as a 9-12 High School Counselor. In addition to counseling, Lauren has extensive swimming experience. She has been swimming for most of her life, starting summer league when she was 6 years old, then transitioning to club swimming. Lauren swam throughout her childhood and adolescent years, eventually landing her with a scholarship to swim collegiately for North Carolina A&T State University. So, it is great for Lauren to be back in North Carolina!
After Lauren graduated, she pursued her master's degree and coached part-time for the club team Aiken-Augusta Swim League (ASL). She coached with ASL for four years, coaching all groups from the "Senior" group to the"Beginner" group. Once Lauren landed her career in school counseling, she coached at the high school where she was employed for an additional four years. She also has taught swim lessons privately for many years. Swimming is a sport she is extremely passionate about. Lauren loves coaching and especially loves the spirit of summer league. She can't wait to meet everyone soon!
Ford Bryson has been named Assistant Coach for the 2023 Barclay Downs Waterdogs! Ford grew up in Charlotte and began swimming for the Barclay Downs swim team when he was 7 years old. He enjoyed swimming so much, he joined a year-round team, Aquatic Team Of Mecklenburg (ATOM). Ford also swam for the Myers Park High School Varsity team until he graduated last spring. He is currently a first year student studying biomedical engineering at NC State University. Ford has continued his passion for swimming with the NCSU club swim team. Swimming has been a big part of his life and he is thrilled for the opportunity to be on the BD pool deck as Assistant Coach!  Ford remembers how much fun he had as a Waterdog and can't wait to help young swimmers find the joy in the sport of swimming.
Swim team registration will begin in late March.  The season will run from May 15th to June 30th.  If you have questions, please contact   Kristen Clark   and  Shanley Gaither.
Summer 2023 Swim Meet Schedule
Wed. 5/31 FXH@BD 6pm Fri.  6/2  BD@BWE 6pm Thurs. 6/8 BD@CSRC 6pm Sat. 6/10 BD@OPRC 8am Sat. 6/17 PC@BD 8am Thurs. 6/22 SP@BD 6pm Wes. 6/28 All-Star Meet at MCAC
Volunteering
Swim meets require a large number of volunteers to make things run smoothly and quickly. Each parent is required to work AT LEAST one meet during the season. Parents who have children in the 6 and under age group ONLY do not have to work at a meet, but must volunteer at the end of season banquet or team breakfast. The volunteer registration link will be posted here soon.
Head Timer/Timers (10 per meet – head timer needed at home meets only)
Starter (starts races with air horn and announces events at home meets only, experience preferred)
Stroke & Turn Judge (2 per meet – evaluate swimmers' strokes, starts, turns and finishes for disqualifications, stroke knowledge preferred, get a poolside chair at every meet)
Runner (takes timer sheets to scorer's table)
Clerk of Course (2 per meet – arrange swimmers in lanes and heats, one for girls and one for boys)
Ribbon Writer (2 per meet – sit near scorer's table and help with ribbons)
Hospitality (distribute water to volunteers at home meets only)
Meet Set Up (assist with setup at home meets only, need to arrive 30 minutes prior to warm-ups)
Pool Parties
Pool PARTIES
In order to best accommodate everyone, please remember the following:
• Visit www.tridentpoolgroup.com to book all parties.
• All parties must be pre-approved and registered at least 14 days in advance with pool
management.
• Parties will be limited to a maximum number of 25 swimmers, including members and nonmembers. Guest fees apply to non-members. Parents or guardians may accompany swimmers
within reason and at the discretion of pool management.
• Parties are limited to a maximum of three hours in duration.
• Party reservations are on a first come, first served basis.
• Only one party permitted at a time.
• Parties may be limited or denied based on availability of lifeguards.
• If an extra lifeguard is required for the party, host will pay additional expense.
• At least 3 days prior, the host will provide pool management with the host name, contact phone
number, number to be expected for the party (swimmers and non-swimmers), a list of members
2
to be expected, and a list of guests to be expected. These lists will assist the front desk during
check in.
• At the time of the party, the host must be at the front desk to assist with welcoming his or her
guests and with checking in.
• The host must be present during the full hours of the party.
Swim Lessons
Barclay Downs Swim and Racquet Club does not provide swim lessons.  The club does allow several instructors to give lessons at our pool.  Please reach out directly for availability and pricing.
For children's swim lessons, please contact Julie Crenshaw at swmteach@gmail.com or Tucker Soltesz at solteszta@gmail.com
 Masters Swimming is a guided practice for adults looking to improve swim skills and fitness. Please Miller Swimming for availability and pricing at either www.millerswimming.com orcoach@millerswimming.com
SPECIAL THANKS TO OUR SWIM TEAM SPONSORS