Barclay Downs Swim and Racquet Club was established in 1961 as a nonprofit, membership-owned club run by an elected, volunteer Board of Directors. The club was built by the original developers of the Barclay Downs neighborhood for the enjoyment of the local community. The membership has increased over the years from 325 families at the inception to now having 415. In the same location for over 50 years, the club was renovated in 2007 to include a new bathhouse, baby pool, adults-only area, tennis office, and expansion of the snack bar.
Our family-oriented club offers:
25 meter, 6 lane swim pool
2 diving boards
designated swim lane
gradual entry, covered baby pool
swim team participating in the SouthPark Swim League
6 tennis courts – 4 hard and 2 clay – all of which are lighted
1 full time tennis pro and 2 assistant tennis pros
tennis teams and clinics for men, women, and children
summer tennis camps for kids
availability of individual and small group tennis lessons
tennis round-robins open to all members
full-service snack bar
social happenings throughout the summer, including events such as a new member party in May,
Friday family happy hours, parties on Memorial day, the Fourth of July and Labor Day.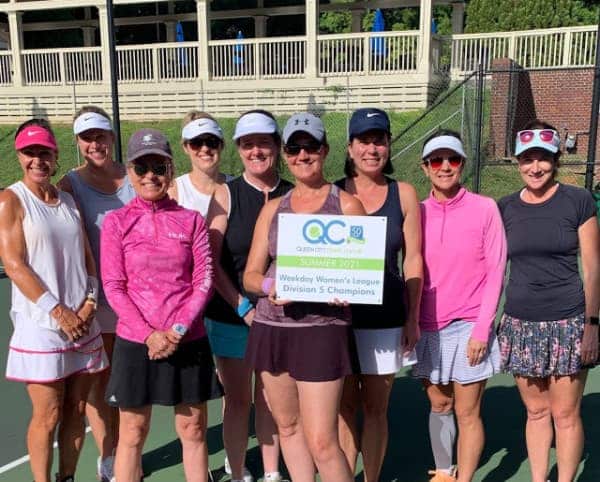 New Members & Wait List
New Members
Because our club membership is at capacity, new members are invited only when existing members resign.  As resignations allow, we invite new members from a waiting list.  Please read the information below for additional details and instructions in joining the waitlist. 
How does the waitlist work? 
Per our club by-laws, neighborhood residents, former members, and legacies (adult children of members) have priority status on the waiting list.  Those with priority status are invited first each year.  A non-resident waitlist is maintained, based solely on the date the waitlist application was submitted. Families from this list are invited after the priorities. 
When are new members admitted to the club?
New member invitations are typically extended in the spring of each year.  As members resign, we offer memberships to families on the waitlist beginning with those with priority status. Families from the non-resident waitlist are then offered membership as space allows.
How many new members are accepted each year? 
The number of memberships available varies from year to year, anywhere from 20 – 35. It is based on how many members resign. 
How long is your waitlist?
The priority waitlist varies from 15-25 families.  Priority families can typically expect an invitation to join within one or two years.  The non-resident waitlist varies from 150-200 families. The current average wait for a non-resident is approx. 6 years. 
How do I know if I am a resident?
Residents of Barclay Downs must be homeowners (not renters) and must live in the boundaries defined by BDSRC's bylaws. For details of the boundary area, please refer to the resident map and a list of streets.  In the event a property is owned by multiple people, only one family may claim resident status per address.  The board recently voted to extend the area considered as "resident." This new section is reflected in red on the linked map and listed at the bottom on the linked listing of streets. Applicants from the new section are in a transition period until everyone already on the wait list from this section can be offered membership.  This will result in wait time shorter than non-residents but longer than existing priority applicants.
How do I get on the waitlist?
Please complete the Waitlist Application Form.  Once this application is received and processed, you be asked to log on to our billing system and pay the $100 waitlist fee online.   Your application for our waitlist is NOT complete and your position is NOT final until the payment is completed.
What happens when I am invited to join? 
Once a membership offer is extended, you will be given a Membership Application to complete.  Your application must include two recommendations from current members.  You do NOT need to complete the Membership Application or get the recommendations until AFTER an offer of membership is extended.
How much does it cost to join?
Once a membership offer is extended, an initiation fee (currently $4500) is due in addition to first year dues (currently $900).
How much are the annual dues?
Annual dues are currently $900.
What happens if I am invited to join but I want to postpone my acceptance? Can I remain on the waitlist?
No.  Once you are invited to join the club, you can either accept or decline the invitation. If you choose to decline for any reason, you will be removed from the waitlist and must reapply if you wish to be considered for membership in future years. You will pay the $100 wait list fee and be placed at the bottom of the waitlist.
How do I ensure I retain my spot on the waitlist?
You may contact the Membership Chair at BDSRCmembership@gmail.com annually to check your position on the waitlist.  You position will not usually change throughout the year, because new members are only invited in the spring.  The Membership Chair may also contact you periodically to ensure your contact information is still valid and ask if you want to remain on the waitlist.  If there is any change to your contact information, please let us know ASAP.  If we cannot contact you by phone or email, you will be removed from the waitlist and will need to reapply if you wish to be considered for membership in future years.
If you have any additional questions not addressed above, please contact the Membership Chair at BDSRCmembership@gmail.com.
Membership Resignation
Resignation
If a member wishes to resign their membership, please email the Membership Chair at BDSRCmembership@gmail.com.  If you joined before 2002, $225 is refundable; original membership certificate will be required.  If you joined in 2002 or later, no refunds are available. Members who resign after paying annual dues but prior to July 1, may be eligible to receive a 50% refund on current year dues.​
Senior Member Info
Senior Members
Senior Members are eligible for reduced annual dues of $200 per year.  To qualify as a Senior Member one family member must be at least 60 years old as of Feb. 15 and have been a member for at least 20 years. If you qualify for Senior Membership status, please email the Membership Chair at BDSRCmembership@gmail.com.
Club Rules